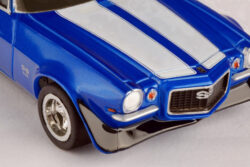 Announcements
SNEAK PEEK PHOTOS HAVE BEEN ADDED TO THE BRAND NEW PRODUCTS LINK:
These photos are of decomasters, not the final production cars. (Fun fact: Decomasters are always a little less glamorous than the final production cars so paint and body flaws may appear in these photos). Official product photos will be provided by or before February 4th, at which time we'll ask that you please replace these current photos with the official product photos because they'll look waaaay cooler! Check them out HERE.
PRODUCTS ARRIVING MAY 2022: 
The Infinity Raceway returns LATE MAY with newly designed track with exciting graphics, the new Formula N cars AND a brand new power pack (9volts, 1amp) designed to work perfectly with the best beginner set around. (Check out the Box Art in the Sneak Peeks folder)
The Race Barrier returns in new packaging accompanied by Brand New Catch Fencing and ARMCO barriers.
The Giant Raceway Set returns!
A smokin' hot 1968 Corvette L88 that you'll have to see to believe.
We're restocking the hottest cars: 22043 – 1970 Chevelle Red, 22044 – 2021 Ford GT Heritage #98, 22050 – 1971 Chevelle Yellow, 22031 – Ford GT40 MkIIB Sebring #2, 22038 – 1970 Corvette LT1 Red Metallic.
Racemasters bought AFX from Tomy last year (yay!). Please be sure to remove any Tomy logos or references in relation to the AFX brand. Thank you!
Do you have the newest AFX logo? Download it here: AFX Logo