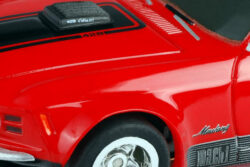 Product Updates
Sets
Infinity Raceway set returns LATE MAY with newly designed track with exciting graphics, the new Formula N cars AND a brand new power pack (9volts, 1amp) designed to work perfectly with the best beginner set around. (Check out the Box Art in the Sneak Peeks folder)
Super Cars set scheduled to return late-2022 with NEW cars – including the Corvette C8 in Torch Red
Cars
The smokin' hot 1968 Corvette L88 you'll have to see to believe
More Ford GT40 MkIVs scheduled mid/late-2022 (Yes, we will be doing the entire 4-car collection of GT40 MkIVs this year!) First to be released is the Ford GT40 MkIV #3 coming in May 2022.
ALL cars will come with Clear Windows from now on. No more blocked out windows.
Accessories
Race Control Center scheduled to arrive June 2022.
Race Barrier returns mid-2022, different part number, new packaging, same product.
Brand New AFX Catch Fencing scheduled to arrive mid/late 2022.
Tri Power Pack Returns mid-2022 – different part number and packaging, same product.